Need some help building your virtual booth?  We're here to help!  Below are some resources to help build online content for your Northern Green virtual booth if you're short on time or people resources.
NEED A VIDEO?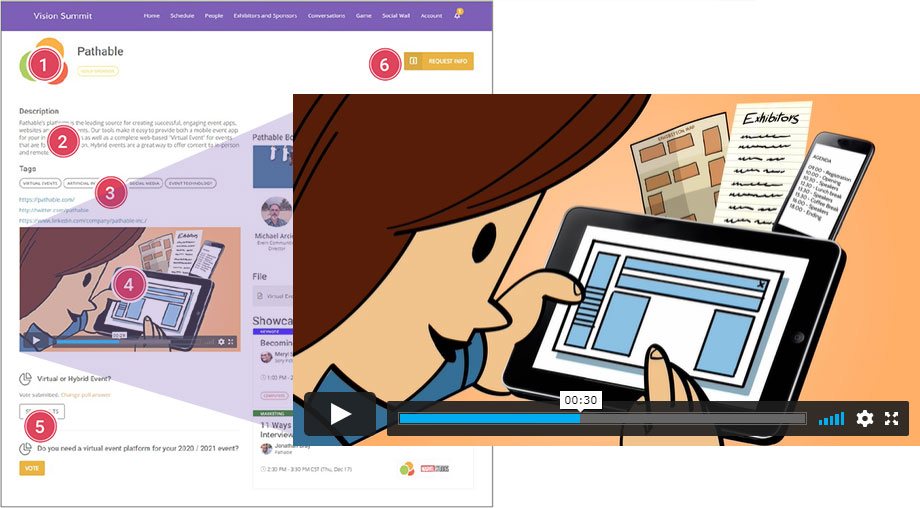 While any video can be used, if you don't have one ready to go, Northern Green is partnering with Video My Story to offer a straightforward way to make one. Please note that deadlines apply, so contact Dan at Video My Story no later than Nov 9 at dan@videomystory.com.
A video can be placed on your virtual booth landing page, and it is yours to use anywhere else, like on company websites, in PowerPoint presentations in sales calls, on a loop when exhibiting, and wherever an audience needs to understand your company and product. A video produced now can be used for multiple purposes in the future.
What will my video include?
1 minute script read by professional voice talent or actors.
Shots of company products and services in action.
Music and special effects throughout.
Edited web ready HD video to be uploaded to YouTube and add to your website and social media.
What packages are available and can I see a sample of each?
PACKAGE 1: $300 Photo Exhibitor Virtual Video Package – See examples below:
PACKAGE 2: $500 Video Exhibitor Virtual Video Shoot Package – See examples below:
How do I get started?
Step 1: Writing Your 1 Minute Voice Over Script
Rewrite your existing marketing materials into a 140 word script or write a 140 word script that highlights your selling points and company or products strength, credentials, and features and benefits. Here are some questions to help in the writing process:
What service or product do you offer?
What are the features and benefits of your service or product?
How are you different then your competitors?
What do your customers say about your product of service?
Email 140 word script by Nov 15 to dan@videomystory.com.
Step 2: Providing Visuals – Photos or Video
PACKAGE 1: PROVIDING PHOTOS
You will receive a link to upload a minimum of 30 images and maximum of 50 images to cover the length of the 1 minute voice over. Include all product photos, pdfs of marketing brochures, one sheets, high resolution logos and any other related graphics or photos.
See sample videos:
PACKAGE 2: SCHEDULING VIDEO SHOOT
Using stabilizers and cinematic cameras a 30 minute professional videography session will be scheduled at your store or office location within the twin cities area. Please email dan@videomystory.com for different dates and times that work to schedule the 30 minute video shoot. Also have a list of the shots you want at the video shoot that will match up with the 140 word script read by the professional voice over actor like this:
volunteer actor holding product
volunteer actor opening product
actor prepare, apply and use product
actor enjoying product smiling
actor looking at product on phone, iPad and computer screen
actor showing product to someone and talking
See sample video:
Step 3: Proofing and Approving the Editing
By Nov 30, you will receive one draft to review and within 48 hours either approve or email a list of specific editing notes by listing the exact time of any changes to the edited video. Any other edits outside the first and second versions will be invoiced.