Both Keynote presentations are included with your Northern Green registration!
Opening Keynote: Open Roads Open Minds: An Exploration of Creative Problem Solving
8:30 a.m. – 9:45 a.m.

Steve Uzzell

Anyone who has had the good fortune to drive for any length of time on a true open road has experienced the remarkable mind-opening phenomenon that results: Our imagination is released, and problems resolve quickly in solution. Why? Why does this ALWAYS work? No one knows exactly, but most everyone acknowledges the effect, and I call this effect the Spirit of the Open Road. As adults, the continuum of every day is spent solving problems, so… how DO we access the Spirit of the Open Road and turn it into an attitude for everyday problem solving? A 58-minute presentation with over 250 photographs from 44 of the United States and 11 other countries covers these 10 key points of the process and much more:
Louis Pasteur uttered five words that have had the most profound effect on my life: "Chance favors the prepared mind." Since I first heard those words in junior high school, I've tried to use preparation to lay the groundwork for magic to happen, and that philosophy has paid handsome dividends in every committed endeavor. The knowledge gained in preparation increases vision: after all, our eyes will only EVER see what our mind is prepared to comprehend.
Do your own scouting. If it REALLY matters, you have to see it with your own eyes. That vision creates context in a way that nothing else EVER will, and it is the essential first step to finding what is relevant.
Make the problem your passion. Any recurring problem is worthy of your passion. ANYTHING worthy of your time is worthy of your passion.
We become known for the problems we solve.
Knowing where you'd like to end up is the very essence of knowing where to start. Visualize the solution, and then follow the path that connects you to the solution. The direction you take on the path matters not (starting where you are and working towards the solution, or the converse), but if you don't visualize the solution, you'll NEVER find the path.
Solutions can be found in very unexpected places. To find those places, however, we must ALWAYS remain open to possibility.
Trust your intuition, but hold yourself accountable. If you don't hold yourself accountable, you'll NEVER learn that trust.
Set the standard: become an expert – know how to use ALL your tools. A simple tool mastered can unite a dreamer and a dream.
Don't just act – ANTICIPATE.
If we can't imagine it, we can't do it! And if you don't use your imagination, you will lose it. So make any venture an adventure, and enjoy the ride!
Closing Keynote: The Work We Do
3:10 p.m. – 4:00 p.m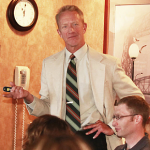 Ted Schick, Schick Corporate Learning
We spend nearly 40% of our lives working. And let's face it— our work, to some degree, defines who we are. In this fun and engaging closing keynote, we will look at our work, our motivation and what we need to flourish every day. We'll examine the roots of our professionalism as well as how to cultivate our teams, so they can grow and blossom. We will close with how to till our own soil, taking care of us as we tend to our health and well-being. A perfect way to close our conference as we anxiously wait for spring (and we will be waiting for a while more).
Generously Supported By: