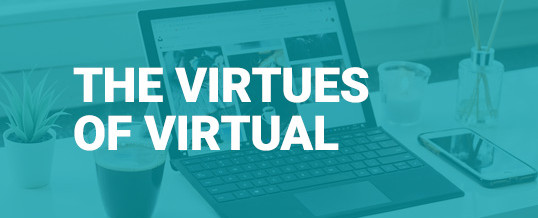 Even in an industry where every year is different, 2020 has been exceptional. Despite our hope to hold an in-person event in January, Northern Green is going online. How are you dealing with that news? Are you grieving the opportunities you'll miss by not being face-to-face with your green industry friends and business partners? Or maybe you're relieved that you won't have to decide whether to travel in these strange times, whether to shake hands or not, wear a mask or not, or make a myriad of other decisions that were once much easier. Or maybe you feel a little of both.
Let's face it: change can be tough. Even good change. It can involve denial, anger, bargaining and depression before you finally reach acceptance. But sometimes, when we're lucky, change simply makes life better.
That's the case when it comes to this year's Northern Green event. Here are five ways that you will benefit from Northern Green going digital, and becoming more accessible than ever before.
More is better when it comes to your team. By going digital, we're making it even more affordable for you to give more of your team access to Northern Green. That makes it easier, more effective and more efficient to create real positive change and growth based on what you learn at the event. You'll be able to inspire buy-in for new ideas you want to put to work in your company by participating in sessions as a team, and you can build a plan to make it happen together with the employees who will execute it.
More is better, times two when it comes to education. Three paths are better than one. When you're in-person at Northern Green, you must choose between educational sessions that run at the same time throughout the event. When you attend Northern Green Virtual, you can experience one session during the scheduled time, then circle back to attend the other two sessions in your spare time later that day, in your pajamas that night, or anytime that's convenient for you.
More is better when it comes to best practice sharing. We've always believed in the power of industry professionals learning from each other, and Northern Green has always attracted the industry's best. With the tools available to us in this digital environment, attendees will have the opportunity to share what is working and not working in their businesses with each other. They'll be able to use the chat and Q&A features during the education sessions, participate in coffee chat discussions on the topics that matter most to them and to their employees, and learn from each other.
More is better with all your vendors in one place at one time. The Northern Green experience will remain the same in that it offers excellent content, relevant resources, exhibits and networking opportunities, but the medium has evolved for enhanced online interaction. We miss face to face and are sure you do too! So, we made sure that you will be able to visit with vendors online using either video or text chat. Whatever your preference, you won't want to miss learning about all the new products and services available from vendors in 2021! It's a one stop online shopping experience to kick off 2021.
You're in charge. Northern Green Virtual will provide the opportunity for you and your team to take advantage of the training, tools and professional connections the event provides. We encourage you to create an education plan for yourself and your employees. All those who participate get the chance for professional development, and the resulting growth will benefit your organization and customers too.
In the meantime, as we work to finalize this year's educational line-up, we're also working on a guide to Northern Green Virtual that will help you make the most of the education, people, tools and technology it will offer. We can't wait to join you for the best education yet at Northern Green Virtual, January 11-14, 2021!