Where can I find information on Master Classes?
Master Class attendance is not part of Northern Green Virtual registration packages. Separate registration for these classes is now available click here for details.  Note: Master Classes will NOT be recorded for future viewing.
Are CEUs being offered and how do I get credit?
Yes, CEUs from a variety of organizations are being offered and exact courses and credits can be found by clicking here.
NOTE: Offering credits virtually may mean the way you submit to gain credit looks different. Please review the requirements carefully. In order to obtain credit, you need to be individually registered for Northern Green Virtual. Attendance will be monitored and submitted to organizations that request details.
Need access to someone who can help?
You've got this, and we're here to help. We have plenty of resources to help you navigate Northern Green Virtual successfully. You can navigate to "Account > Get Support" within the virtual platform and ask your question in the chat box or email staff directly at info@northerngreen.org or call 651-633-4987. We will have staff dedicated to responding and providing assistance throughout the event.
What other resources do you have to help?
Looking for a quick glance of the Northern Green Virtual schedule or for some guidance on the event's technology/best practices? Download the Northern Green Virtual Quick Guide now.
Distractions happen. Download this sign to hang on your office door to let your team know you're busy learning!
As an attendee, do I need to download any software in order to participate in virtual meetings/sessions within the platform/website?
To access the event platform/website, you will need a computer or iphone/android/tablet and a stable internet connection. You'll also need Zoom. If you don't have it already, go to https://zoom.us/download and select the blue "Download" button under "Zoom Client for Meetings." Choose the location on your computer where you'd like to save the download. Once the download is finished, "ZoomInstaller" will appear. Run the software, and Zoom will begin installing. With Zoom, you'll be ready to participate in the event, watch virtual sessions, and join virtual meetings.
Best Practice:
Browser: We strongly recommend using Google Chrome or Microsoft Edge browser
Internet: Ensure you have a strong internet connection to avoid buffering or slow downs
Clear Your Browser Cache: If you're experiencing technical difficulties, try clearing your browser cache first.
Close Unused Browser Tabs or Windows
Use headphones or a separate speaker for the best audio quality and experience.
Can I use my iphone/android/tablet to access the event and watch virtual sessions?
Yes, you can use mobile devices to access and participate in the event.
Best Practice: Please ensure that your mobile device is connected to a stable internet connection. A connection of 3 Mbps or higher is recommended.
Review the recommended system requirements below for the best experience:
Desktop:
Desktop or laptop computer (Note: Most computers purchased within the past few years will exceed the minimum requirements stated below.)
Operating System:
Mac: Mac OSX 10.7 or later
Windows: Windows 10, 8, 8.1, 7, Vista (SP1 or later), XP (SP3 or later)
Ubuntu: 12.04 or later
Linux: Red Hat Enterprise Linux 6.4 or higher
Processor / RAM:
Single Core 1Ghz or higher (Dual core 2Ghz or higher, 4G RAM recommended)
Web Browser:
Windows: Chrome 72+, Edge 84+, Firefox 27+, or IE 11+
Mac: Chrome 30+, Safari 7+Edge 84+, or Firefox 27+
Linux: Chrome 30+, Firefox 27+
Internet Connection:
1.5 Mbps "up" minimum (3+ Mbps "up" recommended). Note: wireless speeds are lower than your ISP's advertised speeds. You can use speedtest.net to test your speeds on your computer.
Hardware (recommended but not required)
Webcam
The microphone and speakers that come built-in to most computers is adequate, but a headset with a mic or a stand-alone microphone will create a richer, cleaner sound.
Mobile Web:
Smartphone with web browser (Chrome, Edge, Firefox, or Safari recommended)
How will I add sessions to my agenda?
From the main navigation menu, you will select Schedule > Agenda and then click the plus sign (+) next to any session(s) that you want to add to your agenda.
Best Practice: Some sessions may have limited capacity, so it's important to sign up as soon as possible!

How do I join a virtual session?
To join a virtual session, navigate to the specific session's page (Schedule > Agenda/My Agenda > Click on the session). On the session page, you will be able to join the session (1) minute before the specified start time by clicking "Join Live Meeting".
How do I edit my profile?
From the main menu navigation, select Account > Edit my profile. Here, you can add a profile picture, your organization's name, and a short bio, set your profile preferences, and share other relevant information about yourself.

How can I schedule 1:1 or group meetings?
From the main navigation menu, select People > Attendees/Speakers/Exhibitors. Find the person you'd like to connect with and click the three dots symbol (•••) next to their name. Select "Schedule Meeting". Click the drop down next to an individual and select 'Schedule meeting'. From the meeting scheduler page, you will be able to add additional people to your meeting, view each participant's calendar, and select a meeting date and time that works for you. You can title the meeting and add a short description before sending the invitation to the participants.
Attendee Page View

Schedule a Meeting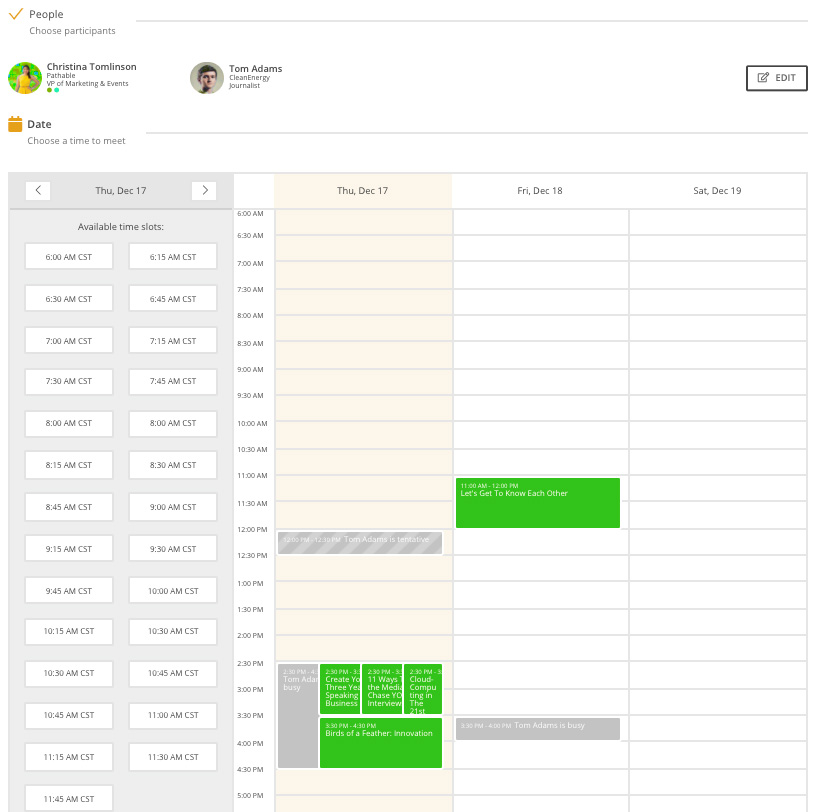 How can I join a discussion (public forum) or start my own discussion conversation?
Join a conversation or start a discussion around a specific topic by visiting the "Conversations" tab in the main navigation menu. Conversations > Public Forums
To Join A Discussion: Click on a topic, and click the "Reply" Button to comment
To Start A New Conversation: Click "New Conversation"

How can I visit an exhibitor's booth?
From the main navigation menu, you will select Trade Show > Exhibitor Directory and then scroll to your desired vendor or use the search tool in the top right corner to locate exhibitor by name, description, or tags. Click on the exhibitor name to enter their booth. Review materials or click "Enter Virtual Trade Show Booth" to enter a live zoom call with the vendor during trade show hours.
What is a Morning Coffee Chat?
Morning Coffee Chats will be organized by industry segment and are intended for attendees to come together in a moderated live video chat to discuss their biggest challenge in 2020 and how they are planning differently for 2021. You will see all participants on your screen and everyone will have the chance to hear and see one another as it will be an online zoom meeting format.  Attendance is limited so sign up early! You won't want to miss this opportunity to interact with your colleagues.  Learn more here…
How long will I have access to view the sessions?
Sessions are being recorded and will be available for viewing with an All Access Pass until September 1, 2021.